Community Update #7
We're back from Thanksgiving with your weekly Tally Ho update.
Hey Tally Ho Hounds! We hope all our US-based doggos had a lovely Thanksgiving weekend with friends and family. In case you missed it, here's our roundup of community happenings last week. Our 14th community call was last Friday, 11.26. Our calls usually begin at 2 pm ET, but we decided to host at an earlier time, 10 am ET, so our US members could get back to family time this Thanksgiving weekend. It also gave a lot of our community members based in the East the perfect time to finally attend one of our calls.
Do you prefer the time change? Ping chlolands#7433 a DM in Discord! As for our POAP, our DEGEN POAP bot was unfortunately flagged by Discord 😕. One of our moderators, Naxsun, dropped the POAP link & QR code in the #qa-community-calls channel. The moderators are currently working on another POAP bot solution. This call also featured another limited edition POAP raffle! Naxsun distributed the exclusive animated POAP to five lucky members.
Dev Protocol
Last week's community call featured a presentation from Dev Protocol.
Developers often suffer from the free-rider problem. Dev Protocol is a solution to fund projects and creators in a sustainable way. Their own blockchain is a unique system to maximize creativity. It's unique due to its staking system to gain or donate principal.
When a patron decides to fund a creator, he stakes the token and rewards are split between patrons and creators. This creates even more potential for those who might not always have the capital to fund creators. Dev Protocol makes it that much easier to fund open source projects. For example, Viper got more funding from Dev Protocol than GitHub.
They're currently on Mainnet and Arbitrum and are working on a liquidity pool with Arbitrum. Users can currently stake on Arbitrum as well.

Their S token increases staking possibilities. If an individual decides to stake, an S token is minted, which then can be used by the creator to offer perks. Users also receive a special NFT POAP for active participation.
Dev Protocol wants to extend an invitation to integrate with Tally Ho. They believe our visions are aligned and community engagement is especially important for them. Integrating with Dev Protocol could help Tally Ho users earn money through staking. People can also stake directly fund Tally Ho!
Look for a pin in their channel, #🌈 | dev-protocol to join their Discord! They're open and ready to chat if you have any questions!
Product Update
Henry began by explaining that most changes aren't visible in the interface, including a more robust system for viewing asset prices.
There was some feedback on the overview page– users said it appeared that there was something to scroll up to–  so the page design was updated to make it more clear. The hiding assets under $2 option works a lot better now.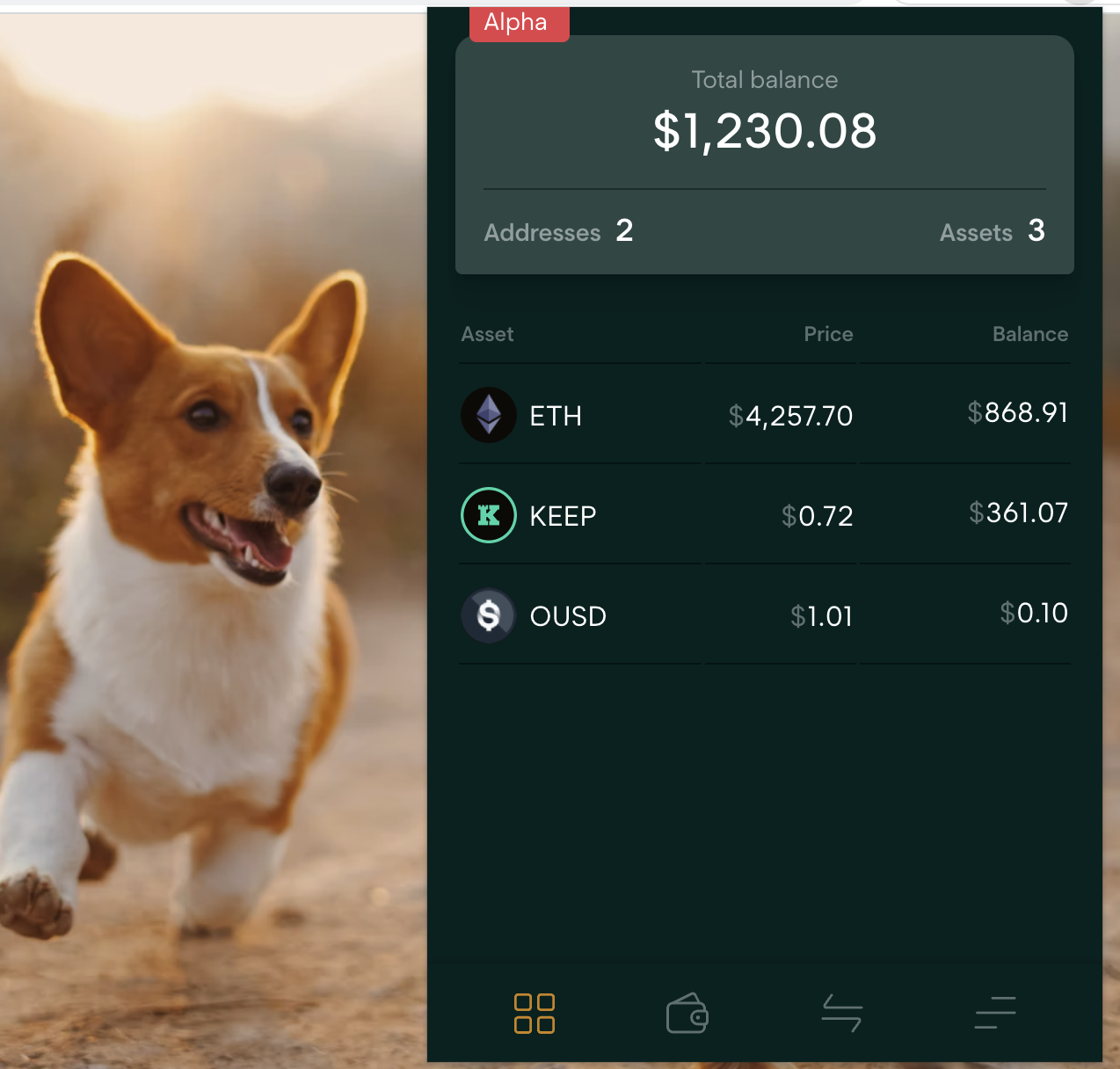 Rachel is continuing to work on Swaps, Matt is working on smart contracts, and Greg is working on default wallet functionality.
Currently, we're set to launch on Ethereum, but we're also working on other networks, and code has already started on that front. And while Tally Ho will launch as a browser extension, we're hoping to expand to mobile in the future.
As always, we're on the hunt for more developers! Reach out to work@thesis.co. And go check out the repo on GitHub and give us a ⭐️ if you haven't already!
Dog Hunt Update
Dog pack leaders requested an extension for The Dopest Dog DAO Dive. Due to the holiday weekend, dog pack members wanted some extra time to dig deep and properly pick quality submissions. Submissions for dog packs ended on Monday, 11.29. Dog pack leaders will finalize their top 5 submissions before voting takes place on the next community call, Friday 12.03. If you missed the details on the current hunt, check them out here.
For any hunt-specific Q's, reach out to Kris#8703! And if you want to get involved but you're not in a pack yet, take the quiz here.
Call for Delegates
Yesterday we announced the call for Tally Ho delegates! 🎉
Delegates will vote on DAO proposals and be standard-bearers for Tally Ho's values of open source, open access, and community ownership. Early applicants will also have the opportunity to be a part of the Tally Ho Community Multisig, which will control the Tally Ho treasury until the DAO launches. Interested in learning more? Head to our official blog post here.

Although there isn't an official cutoff date for applicants, community members will begin making selections as early as next week. If you're passionate about building Web3 wallet software that is open-source, accessible to everyone, and 100% community-owned, submit your application ASAP! You can apply here.
Other Ways to Contribute
If you don't have time to commit to being a delegate, but you still wish to get involved in the Tally Ho community, tag or message chlolands#7433 on Discord with your feedback and ideas! We want to make sure your community content is focused by and on you!

And if you haven't already joined us, drop into our Discord server at chat.tally.cash)