Welcome to Subscape
Subscape is a web3 map control game linked directly to Taho governance—and web3's first play-to-govern experience.
TL;DR
On October 26, we're launching the beta for Subscape, web3's first play-to-govern experience. Over the next 6 weeks, join us and playtest Subscape alongside our friends at Gitcoin, Arbitrum DAO, Galxe, Frax, and Cyberconnect and earn weekly prizes. Read on to learn how you can get access 👇
web3 is (still) a Dark Forest
It's been 3 years since Dan Robison's popular essay Ethereum is a Dark Forest, and web3 is still a scary place. For a technical and social movement that's so focused on *community*, we find it curious that so many experiences in web3 are still solitary and single-player.
So many of us today shuffle around like nomads, moving one from pool or drop to the next, without a home base to return to...
Welcome to the 'Scape, Nomad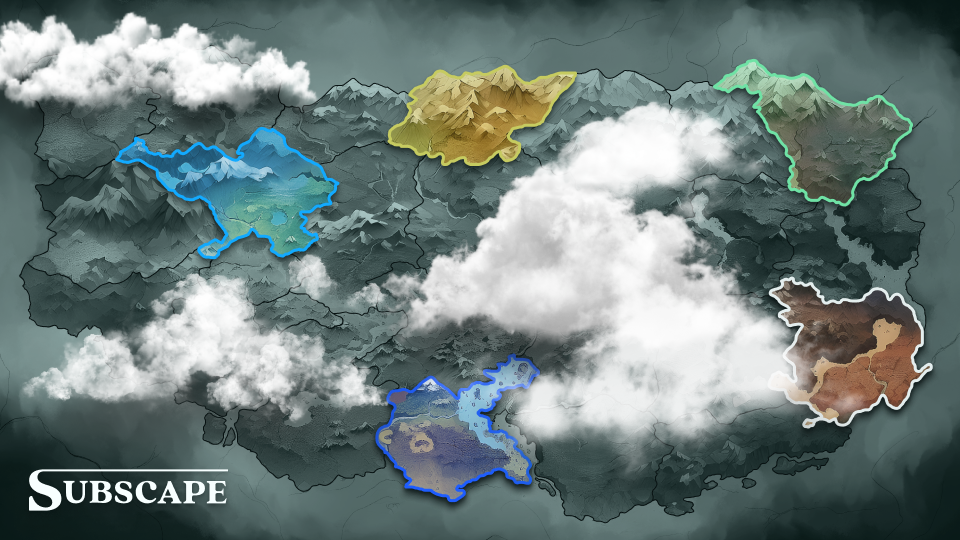 Subscape is a web3 map control game linked directly to Taho governance.
It brings together some of our favorite things—the Curve Wars, Settlers of Catan, r/place, MMORPGs, Fortnite-style progression systems, and OG cyberpunk thought—into a brand new coordination game for web3.
We've built it to be your way station in the decentralized web.
How it works
Playing Subscape = governing Taho.
Playing Subscape = extremely fun.
Subscape is the asymmetric game of settling a mysterious Island on the Net and competing for emissions.
It's a place where communities can compete for engagement, allegiance, and $$$; where individual users can play the field of opportunities available; where crypto's meta can play out visually in real-time.
👉 For mechanism aficionados, here's an in-depth review of the competitive and cooperative dynamics:
👉 For everyone else, here's the TL;DR:
Subscape's Island contains 24 Realms (subDAOs). Nomads (users) may become Citizens of a Realm (stakers) and complete its Quests to earn experience ($XP). Four times a year, emissions flow to all active Realms on the Island, who in turn distribute it to their Citizens.
The larger a Realm (measured by stake), the greater its share of emissions
The more $XP a Citizen has earned from their Realm, the more emissions they can claim
Subscape is all on-chain and will launch on Arbitrum One.
Our intent is that as web3's communities, protocols, and subcultures populate the 'scape, engage its mechanisms, and play the game, we'll co-create:
A living map of web3
A forum for communities and users to get closer together
The first community-driven implementation of two important gaming concepts (overworld; progression system)
A form of governance that is actually fun
Subscape + Taho Wallet
If the Island is your overworld for web3, then your trusty Taho wallet is your HUD. Post-Beta, Taho will be updated to help you track your active quests and alert you to key Subscape events (sieges, $XP drops, etc.). Your daily and weekly farming, minting, and trading activities will be woven into the larger metagame of ruling the 'scape.
The Beta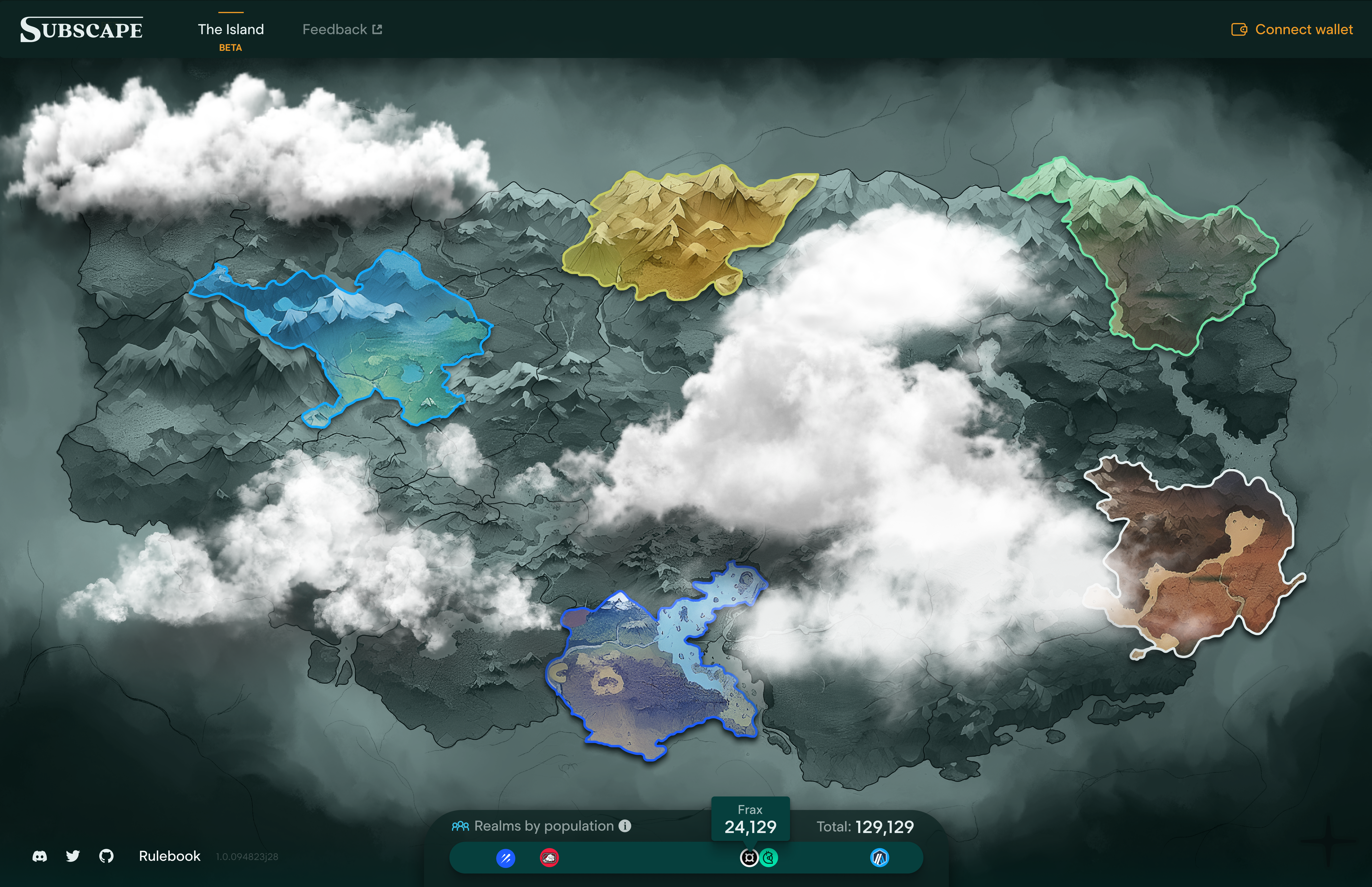 Starting Thursday, we will run a 6-week beta for Subscape on Arbitrum Sepolia with our community. This is a crucial period for testing incentive designs and user interface/user experience (UI/UX). The beta will simulate the many gameplay dynamics from the full version, but on a limited scale. For example, there are 24 possible Realms in Subscape, but only 5 in the beta.
We will launch the beta to a limited group of community members and gradually open it up over the next 6 weeks.
Beta gameplay
Here are the (asymmetric) objectives for beta participants:
Nomads - Each beta participant's goal is to stack XP and rank as high as possible in their Realm's leaderboard.
Realms - Each Realm's goal is to grow as big as possible by attracting Citizens.
🕵️ Beta Nomads—As a beta participant, your job is simple: decide which Realm you want to join and then complete its quests Realm to earn as much $XP as possible. Keep in mind:
Join the Realm that rewards you for behaviors you actually want to do
The fewer participants there are in your Realm, the more $XP you'll earn
The more testnet $TAHO you stake, the more $XP you'll earn
For our first batch, we have invited OG Tahomies and given our partners a limited number of invites for their existing communities. Throughout the beta, we will also add more addresses from our waitlist. More on that below.
🕵️ Beta Realms—For Beta Realms, the goal is to attract as many stakers as possible—both by wooing Taho users and by engaging their existing community. We're thrilled that some of our favorite web3 communities have stepped in to act as Beta Realms. We've been working with them for the past month to define an exciting set of quests, which we also expect will evolve during the coming week. Our beta initial Realms and quests are:
Galxe Realm (🌌, 🗺️) represents the largest web3 credential community that is helping projects and developers to build robust decentralized products. Earn oat, NFTs, and tokens by contributing to your favorite web3 communities.

Quest: earn $XP by claiming Galxe quest OATs.

Arbitrum DAO Realm (💙, 🗺️) is a community-driven governance mechanism that allows $ARB token holders to propose and vote on changes to the organization and the technologies it governs.

Quest: earn $XP for executing unique contract interactions on Arbitrum.

Frax Realm (¤, 🗺️) is a community that aims to establish a scalable, digital currency with a flexible supply, backed algorithmically and by collateral.

Quest: earn $XP by claiming bribes on votemarket—the higher the better.

Cyberconnect Realm (✖️, 🗺️) is a social ecosystem that goes beyond likes and shares. They encourage developers to create social applications where users have complete control over their digital identity, content, and connections spend gas using CyberWallet.

Quest: earn $XP by spending gas using your CyberWallet.

Gitcoin Realm (🟢, 🗺️) is a community that focuses on incentivizing and supporting open-source development. Gitcoin aims to foster collaboration and sustainability within the open-source ecosystem by providing a marketplace for matching developers with projects and funding opportunitie and rewards for their contributions.
Why Participate in the Beta?
Your feedback will help determine the shape of Subscape's full version.
But that's not all...All participants who make meaningful contributions throughout the beta will receive rewards unlocking future benefits. Pay attention on X and in Discord for additional methods to win weekly prizes.
Founders Legacy NFT: Everyone who participates by earning XP for at least two weeks per month during the beta will receive a commemorative NFT that unlocks a perk at launch.
XP Champions Enigma Box: The top 10 users in each realm (50 in total), who have earned the most XP will receive Mystery Boxes that unlocks a further bonus.

Sovereign's Laurels Trophy: The Realm with the highest redeemed $TAHO and population will be awarded a physical trophy and exclusive benefits for their entire community, plus the prestige and bragging rights of being the top Realm.
How to check if you're eligible
Starting on October 24th, testnet $TAHO will be airdropped to all wallets eligible for beta access. To check if you are eligible for Taho Beta access, follow these steps:
If you don't have it already, download the Taho Wallet extension from the Google Chrome Web Store: https://chrome.google.com/webstore/detail/taho/eajafomhmkipbjmfmhebemolkcicgfmd
Make sure that you are using the Arbitrum Sepolia testnet network. This will allow you to receive testnet $TAHO.
Open the Taho Wallet extension. If you are eligible for the Beta, you will see a banner that says "You're eligible for the Beta."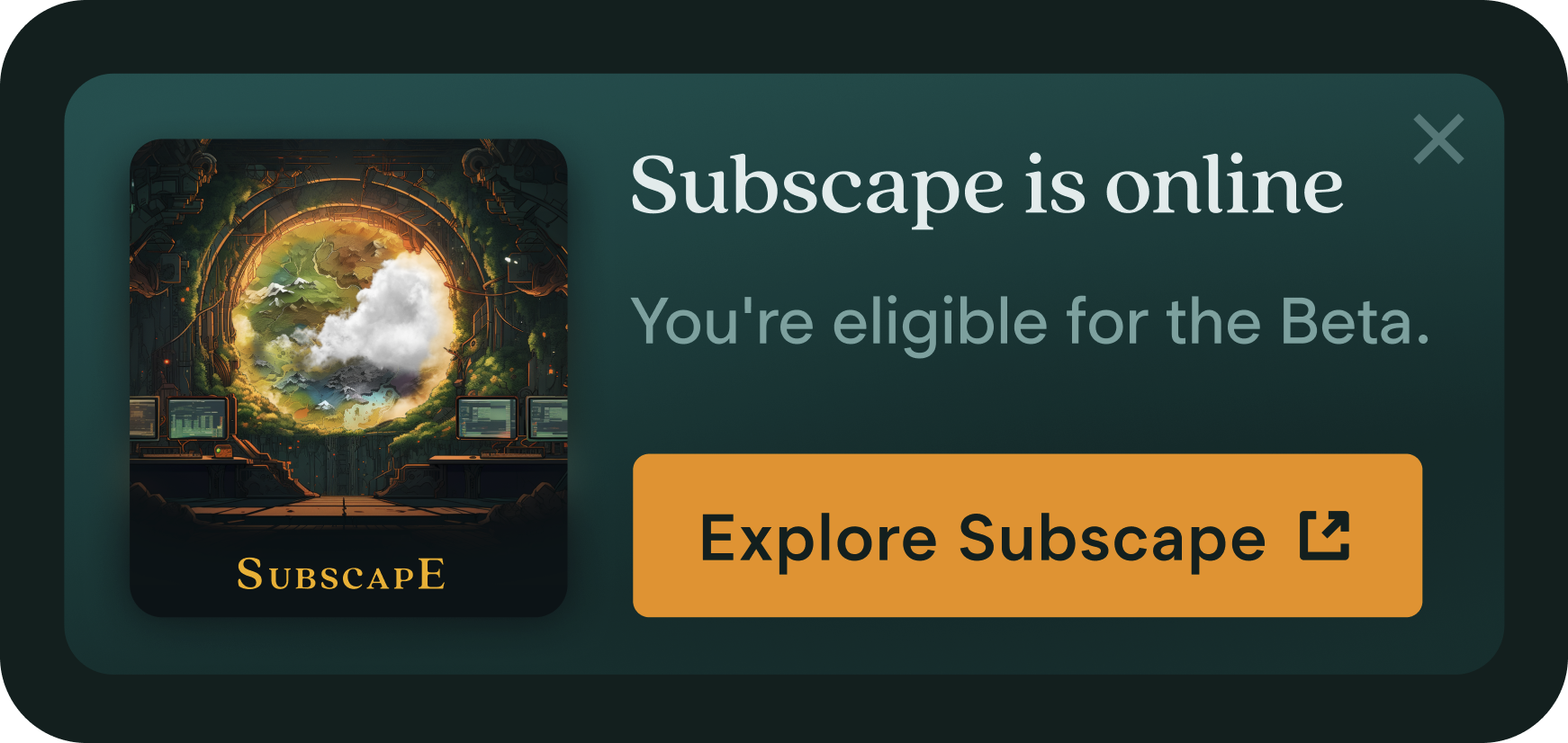 ⚠️ NOTE: We are rolling out the airdrops gradually on October 24th. If you don't see $TAHO immediately in your wallet, check back later in the day.
If you are not eligible, you can sign up for the waitlist here: https://tahobeta.deform.cc/waitlist
Not eligible? Don't worry, you still have a chance. We'll be progressively opening the beta over time.
Join the waitlist and Discord channel to receive regular updates on how you can gain access in our limited drops over the upcoming weeks.
It's you time Citizens & Nomads.
Mark your calendars: The beta kicks off on October 26th and runs through December 2023 on the Arbitrum Sepolia network. We've teamed up with five leading web3 communities, making this an unprecedented collaboration. To celebrate the launch we're hosting an AMA with Game Master Beau Rancourt and Taho Founder Michael Haley on October 24th at 12pm EST. Join us on X (Twitter) to learn more about the story behind the creation of the Subscape.
Listen to the space here: https://twitter.com/i/spaces/1eaKbgEOgwrGX