Introducing Custom Networks: The EVM Ecosystem at your Fingertips
You can now easily add any EVM network to your Taho wallet.

TL;DR: Taho now supports custom networks! To celebrate, we're doing three weeks of giveaways. Read on for a how-to guide and find out how to win up to $600 in ETH on zkSync.

If you're already a Taho user, you know your wallet comes pre-loaded with popular networks such as Polygon, Arbitrum, and Optimism. But what if you want to bridge your assets from Polygon to zkSync? Or perform a swap on Moonbeam?

Over the past year, our community has let us know they'd like to use Taho on additional EVM networks. After months of steadily building toward this highly-requested feature, we're thrilled to announce Custom Network support is now live!
You can now connect to all your favorite EVM networks, such as zkSync, Fantom, Gnosis, Canto, Celo, and many more.

The power of the entire EVM ecosystem is now just a click away.
How to add a custom network to your Taho wallet
You can now connect to any network listed on Chainlist. Here's how:
Open your Taho wallet and navigate to the network dropdown in the top nav.
Scroll down to + Add network and click on the link to Chainlist.
Inside Chainlist, click Connect Wallet at the top right (make sure Taho is set as your default wallet!)
Browse for the chain you'd like to add, and click Add to Taho
Reopen the Taho extension. Your chosen network will now appear in the network dropdown. Wasn't that a breeze?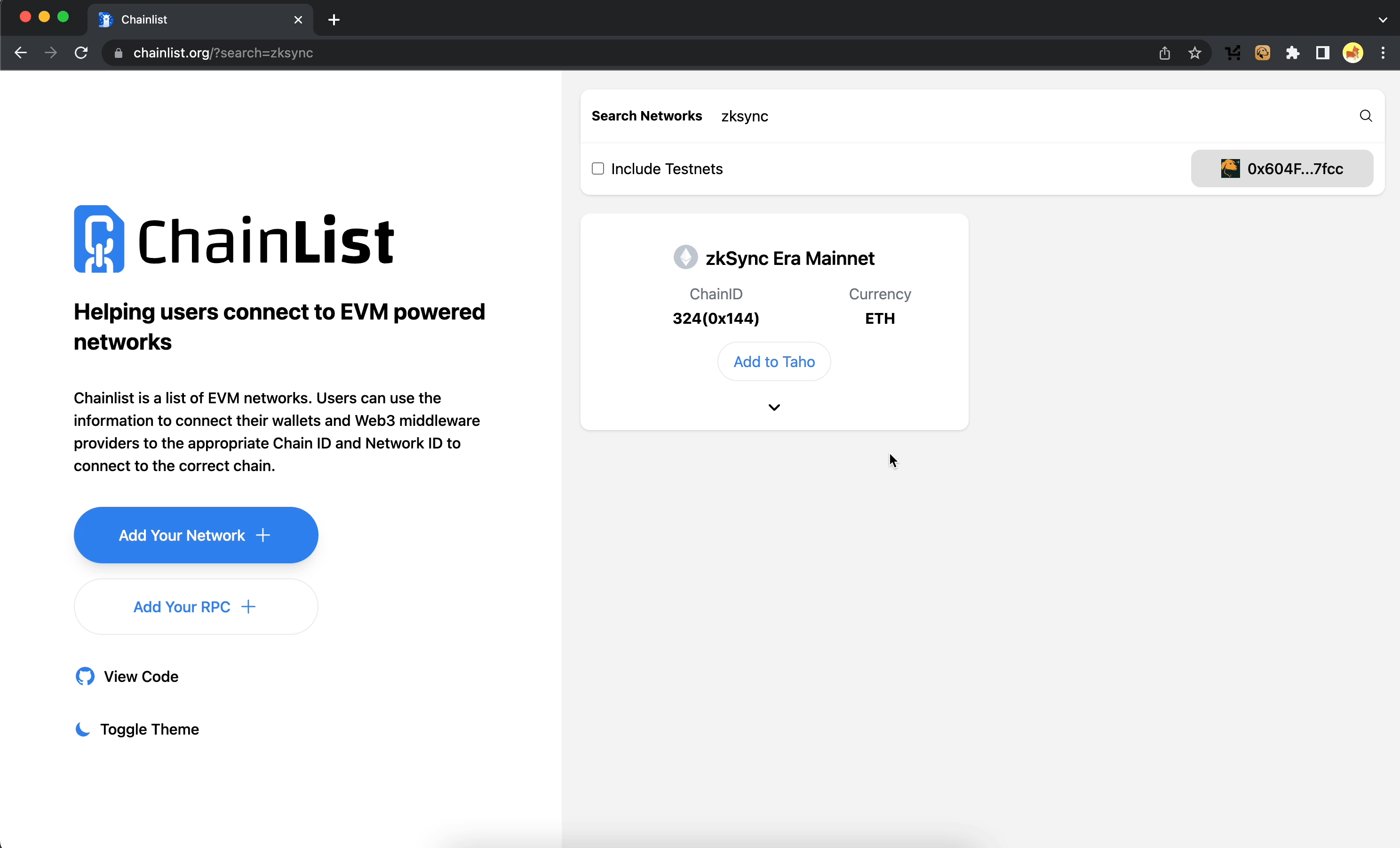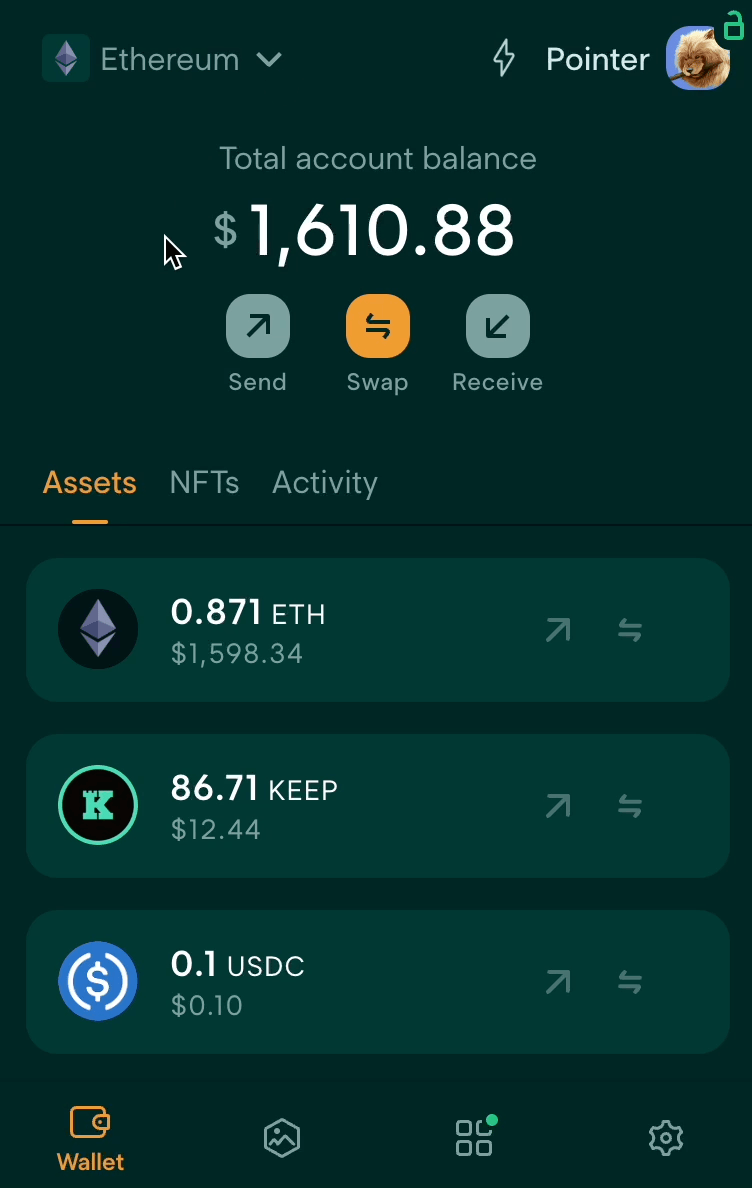 Chainlist: A Secure One-Stop Shop for EVM Networks
In web3, your wallet not only holds all of your assets, but also serves as the portal to every dApp and network you interact with. Chainlist is the easiest way to explore a wide range of EVM networks while safeguarding you from phishing attacks from unreliable sources or networks.

No need to go through the cumbersome process of manually adding a network to your Taho user interface. All you have to do is click "Add to Taho."

Custom networks added to Taho come fully supported with all standard functionality you'd expect, and there is no limit to the number of networks that can be added to your Taho wallet. From testnets to mainnets, you've got it all. Tinkering with the dApps on your favorite network with Taho has never been easier.
How to Add Custom Assets
When you add a custom network to Taho, you'll need to manually add all assets other than that network's native asset. It only takes a few steps:
At the bottom of the asset list in your main Wallet view, you will find a "+ add custom asset" button. You can also do this from Settings by selecting "Add custom asset."
Select network - When clicking the "+ add custom assets" button, the network you are on will be automatically selected. If needed, you also can change this using the dropdown.
Add the contract address - You'll now be able to see the assets' account balances reflected in the network's balance and Portfolio.

Not sure how to look for the contract address of an asset? Check out our Knowledge Base for more information!
Up Next: Adding Networks Manually
Our Custom Networks feature allows users to securely add a custom network to their wallet, giving them the power of choice. By integrating with Chainlist, we've simplified the process of adding a new network and made it more secure.

We are also working on allowing you to manually add networks to your Taho wallets in the future using network and chain ID, similar to connecting an API by adding the API keys.
We come bearing gifts! 🎁
Did you really think our new feature update is complete without giving back to our community?

To celebrate the release of custom networks, we're doing 3 weeks of mints + giveaways on zkSync!
👉 Here's how to enter:
Do a swap on zkSync using SyncSwap using your Taho wallet
That's it! All minters will be automatically entered in a weekly giveaway.
Our first giveaway kicks off May 31 and will end June 6th at 11:59 pm ET.
We're giving away a total of $500 ETH on zksync
One lucky doggo will win $300, and two runners up each will win $100.
👀 Next week's giveaway will be announced on June 7th and could be even bigger… so stay tuned via updates on our Twitter.
Let Us Know What You Think
Taho is built to serve the community and the Custom Network feature exists due to our community's feedback. If you have any questions or want to learn more about the feature, join our Discord and feel free to reach out to us in the support channels.

And if you're new here, download Taho today!