#OptimisticDoggos on an Optimission
Big news: Optimism support is now live in the Tally Ho wallet!
This was one of the most popular requests on our roadmap, and we're stoked to launch this values-aligned, accessible, and inclusive project as our first rollup.
Our biggest goal with this integration was to make it comprehensive and easy for users so they could dive deep into the Optimism ecosystem. So, most importantly, Optimism is already fully integrated into the Tally Ho wallet—anything you can do on another chain, you can do on Optimism right now.
Other cool stuff 👉
Want to swap OP tokens? Done. Want to view your Motorheadz NFTs? No problem.
Optimism comes pre-loaded in Tally Ho, so there's no need to manually add it to your wallet's user interface.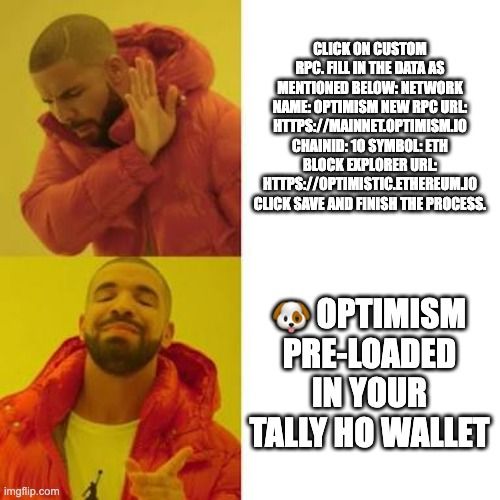 Working with Optimism lets us nurture our core values and, most importantly, our mission to make Web3 accessible for everyone across the world. Users from Beijing to New York City to Abuja can use Tally Ho and now they can also access Optimism's super low gas fees (no more sweating over the right time to transact on L1's).
Optimism and Tally Ho are powered by our communities, so we want to celebrate this new integration with all of you. We want you to get optimistic and embrace the hopepunk side of Web3 by joining the Optimism community (dogs are pack animals, after all).
If you're one of the first #OptimisticDoggos to explore Optimism, then over the next few weeks, you'll have access to giveaways, GALXE quests (not the movie… although we love that, too), and events centered around the Optimism ecosystem. Check them out:
➡️ On-chain achievement NFTs! How to complete the first Optimissions:
Sept 21 – 28: Sign our pledge to #DefendWeb3 and follow Optimism and Tally Ho on Twitter
Sept 28 – Oct 5: Sign our pledge, bridge to, and swap on Optimism

️➡️ ️NFT Giveaways with Apetimism, Optipunks, Oliens, and Bored Town! How to enter:
Sept 22, 11am ET: Check our Twitter and learn how  to win two NFTs, one from Oliens and one from Apetimism
Sept 29, 11am ET: Check our Twitter and learn how to win two NFTs, one from Bored Town and one from Optipunks.
➡️ Community Calls with our favorite Optimism projects on our Discord:
9/23 at 2pm ET → Optimism
9/30 at 2pm ET → Synthetix/Kwenta.io
Whether you want to learn more about public goods or simply swap for some OP tokens, we hope you get optimistic with us and join the #OptimisticDoggos pack.

Want to join the Tally Ho pack? Click here and download the wallet.