Community Update #29
The latest happenings for Tally Ho. 🐾
We hit another record, with over 1300 listeners on our Thursday APAC call! Our Friday call also hit the 1K mark yet again with 1140 listeners. Keep them coming!
Last week's guests were Gravity DAO (Thursday) and Socket (Friday).
ICYMI, Matt was featured on the MissionDeFi podcast. Tune in here!
Product Update
Henry demoed Polygon progress. He showed that Polygon assets are visible in the wallet– and Polygon swaps! They work, but the team is working through some bugs on this. Hang tight, wen Polygon-ers!
There was also a little teaser of Swap rewards... 👀   And Henry showed off the new secret recovery phase UI design!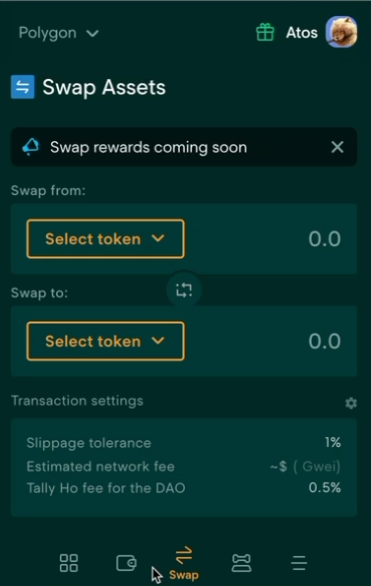 The token work is now done and is being kept in the chamber for now–  because L2s are the top priority by most users. Thus, the release of the token and DAO can only come once L2 work is done.
So, expect multinetwork support to land first, and the token second. All chains will have Swap support, and Earn support will definitely be coming but not immediately at release.
There is an audit coming from Least Authority about the extension soon. With that being said, export and import of private keys aren't shipping yet, unless it undergoes another audit.
And for a final dog treat...the wallet also now supports animated ENS NFTs 🎨

Gravity Dao
JuankBell presented Gravity DAO. He's been working with them for the last year and a half. Gravity DAO is a conflict management and trust creation platform, designed to maintain clinical peace and establish structure in other DAOs.
Juank expressed that there is a need to address social needs in every project. To maintain the mental health of contributors, the community needs to be taken care of during unwanted issues. He also explained that they've been consulting a psychologist to help guide them through the best practices for proper conflict management and resolution.
Their ongoing training program is conducted through a 10-course session, which is part of their third Graviton study plan. The sessions are held Tuesday at 2 pm ET & 8 pm CET. The aim of this program is to enrich attendees with tools and competencies to address conflict. Some of these tools include Decolonization, Complexity & Unified Thinking, Trauma-Sensitive & Anti-Oppressive Culture, Non-Violent Communication, and 1-1 Communication.
If you're interested in attending one of these sessions, check it out here!
Socket
Socket is an interoperability-focused protocol that allows users to create cross-chain applications. Sometimes, it can be as simple as creating a bridge in the wallet. However, bridging could become invisible in the wallet and use everything on different bridges within the wallet (such as integrating with our wallet) which Socket is currently focusing on de-bugging.
Bungee.exchange is a protocol built on Socket that focuses on showing the different routes to send funds through the required protocols all in one transaction–  without needing the user to flow through the bridging steps manually.
They alleviate the problem of not having enough gas on one or another– allowing users to refuel and move gas fees from one side to another, which helps avoid unnecessary bridging.
Socket also continuously monitors all bridges to see which are down, active, or busy, and also allows users to whitelist or blacklist bridges.
Key benefits: It allows wallets to become more prone to being adopted by mainstream individuals, saving gas and time on bridging and moving/working across multiple chains.
We're Hiring!
The Tally Ho team, and the Thesis team at large, extend beyond just our Discord server. If you're interested in taking the next step, we are hiring for some key roles!  
Click on their respective links to apply & find out more about the roles. For any specific questions, please feel free to chat with a team member on Discord!