Community Update #20
Can you believe we've made it to our 20th community update? We've got an exciting round-up of news for you this week.
Can you believe we've made it to our 20th community update? We've got an exciting round-up of news for you this week.
We had two community calls last week– our APAC call featuring gm.xyz, and our usual Friday call featuring Sovryn.
gm.xyz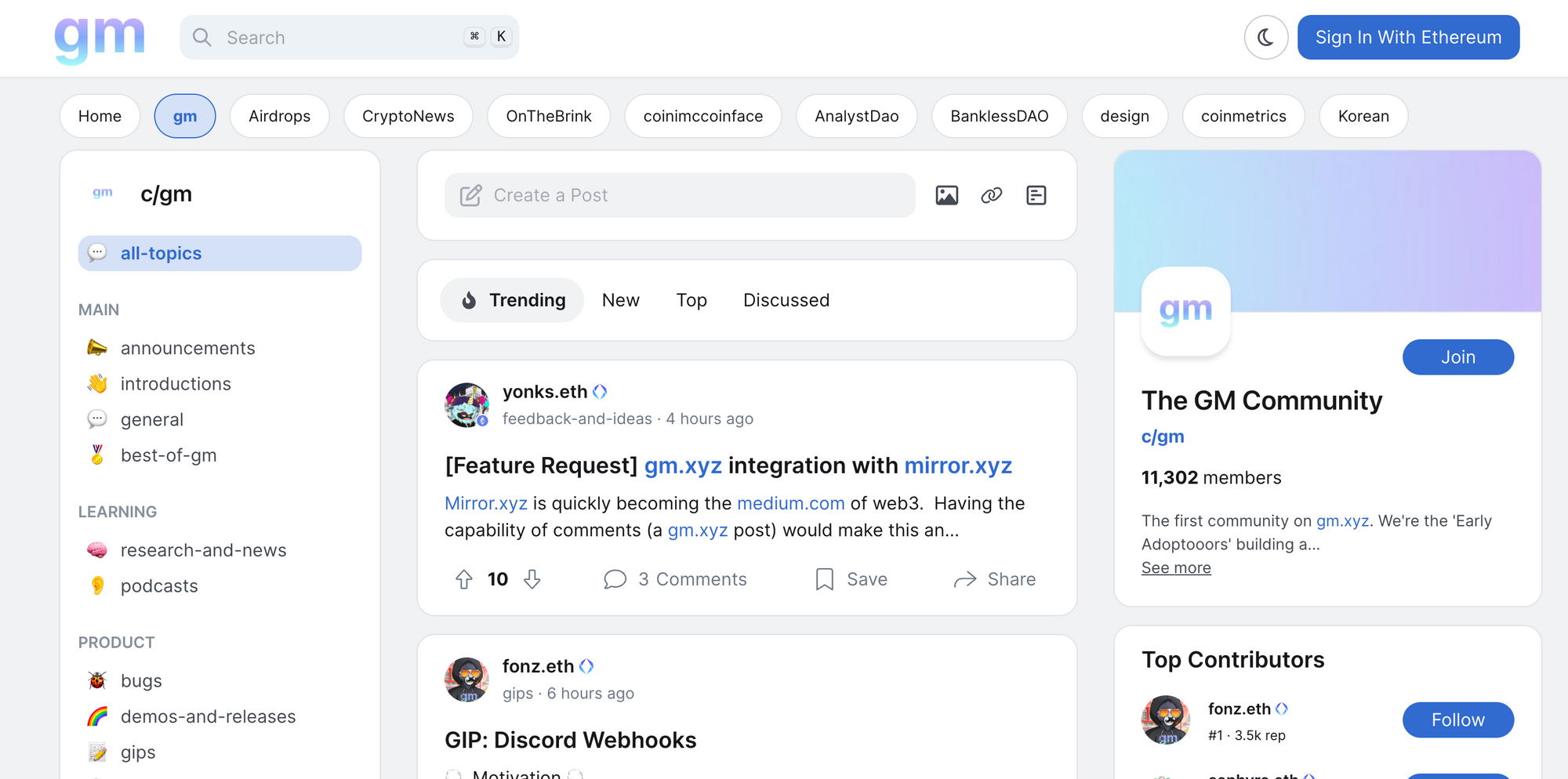 Co-founder Mike McGuiness (aka fonz.eth) presented on Thursday's call. He said that Tally Ho's open source ethos really aligns with what gm is building as well.

What gm is building is a user-owned, permissionless, decentralized social media network. They're starting off by solving one core problem– which is that Discord doesn't really scale up for Web3 communities. It works well for smaller groups, but when one starts getting into Discord servers with tens of thousands of members... you get the gist.

For example, one could have a really great discussion in a Discord channel– but after a week, it's gone, and it's really hard to find that entire discussion through search. It's almost impossible. So they're using a kind of a forum-style contemporary app, and they're starting to onboard communities who are just moving a few channels over.
For example, some web3 games are moving over their governance channel to gm– to make their governance discussions permanent and easy to find.
They're currently looking into wallet integration and how it could work. Currently, one Signs In With Ethereum using MetaMask, WalletConnect, or Coinbase. Your public address is then tied to your account and visible to other users. All of your data on gm is then tied to your address. Supporting Tally Ho as a sign-in option is 100% on their roadmap.
Discourse & Discord vs gm?
In Discourse, for each server you join, you have to create a separate blog. There's no one single place to view all of your forums. The same issue happens with Discord, one has to check every channel within a server as opposed to just checking the server itself.

Discord works well for inter-team communication. But for passive members who might be interested in Tally Ho, but can't keep up with every channel every single day, there is a lot that they will miss out on. But maybe this person would like to see the top discussions every week. For members who are new to the Tally Discord, it can be a bit overwhelming. How do they catch up? These are the issues that gm is trying to solve.
Discord Channels vs gm Topics:
The main advantage of gm topics over Discord channels is that they all flow into the main home feed, as opposed to having to check every individual channel.
Say someone is trying to find a discussion. They can go to the governance topic within that community and look at all the conversations within that topic. You can browse by tiles and related replies that are grouped together in a comment section rather than individual messages.

What's next for gm?

Within the next month, they will have token-based roles that can be used to grant, read and write permissions to certain topics.
The approach is to aggressively decentralize– starting with a decentralized protocol for end-to-end messaging encryption, looking for a decentralized IP provider, etc.
However, Mike wanted to point out that they're focused on building a useful product first, "Because our view is if you don't build something useful, then the decentralization aspect doesn't really matter," he said, "And if you're serious about trying to compete against the Reddit and the Twitters and the Facebooks of the world as a decentralized social media network, speed is your biggest advantage, right?"
They want to listen to users, build the features in immediate demand as quickly as possible, and then focus on switching to fully decentralized infrastructure.

Sovyrn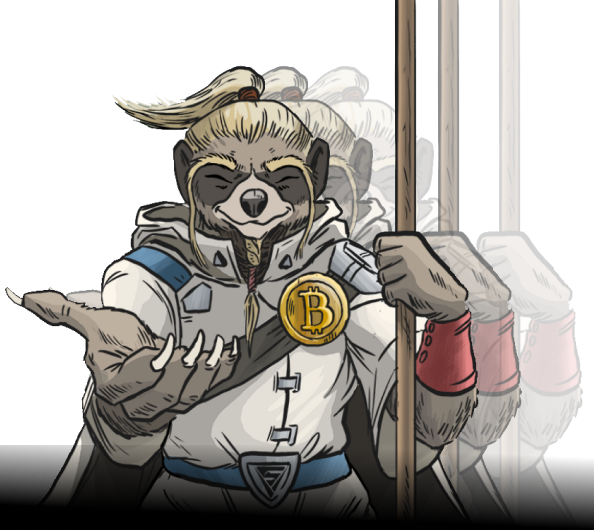 Sovyrn is a decentralized Bitcoin exchange, free of any central authority. Sovryn allows you to hold onto your keys and be fully permissionless (no KYC). This means we can drastically reduce the custodial risk that exists on other Defi platforms.
With Sovyrn, you can...
- Buy, sell, and swap Bitcoin without giving up your keys
- Lend, borrow, yield and/or stake BTC
side note: We give their design team major props. 👏
The biggest differentiator of Sovyrn is that, like Tally Ho, they are completely open source! Users can also vote vote in a Sovryn Governance (SIP) for a few pennies. Imagine the implications for referendums and governance with a system this cheap and quick (with the security of BTC.)
Product Update
The latest release was at the end of last week, and is now available to download on Chrome. In this new edition, you can now swap FROM ETH– before you could only swap between  ERC-20 tokens. So you can swap from ETH to ERC-20, but not ERC-20 to ETH. Expect that to be available in a future release.

There's now a balanced refresh button, basically somewhat of a Band-Aid to allow you to manually refresh the balance if it's not updating properly, and it allows you to copy your address in an easier fashion. You could always copy your address, but now you can also hover over the address on the top right, and it'll show you the option to copy it to your clipboard. (This feature is not currently live on Firefox, only if you zip from Github manually.)

Right now, the wallet's assets lists are being populated based on tokens that are curated by the community. This is going to be the way for a little while until we have the ability to add custom token addresses to the wallet. If there's a token that you think is really strong, and that should be included in the token list, go into the #token-lists channel and request it.

The Tally Ho DAO design is currently underway, we should be in a place to share with the wider community fairly soon. If you want to get involved in some of the very early feedback on the design, let us know and we can add you to the DAO Design Challenge gated channel. We're looking at sharing it on the governance forum for comments soon as well.
Integrations
Tally Ho is now supported by the following dAPPS!

-mStable
-Alchemix
-Balancer
-Yearn
-Snapshot

Some happened quickly, but others were in the pipeline for longer. For example, Alchemix had agreed already, as East was in contact with the team for a while, and they all agreed to finalize it at the time of their v1 launch of last week!


Working Groups
We have several new working groups that will be integrated into the Marketing section of our upcoming DAO.

🧰 Workshops: A series of workshops hosted on Discord that will go over basic web3 tools and processes. Its purpose is to get people, especially new members of the community to level up their skills in Web3. Do you have a specific area that you want workshops to be created around? Do you have an area that you are pretty confident in, and want to contribute some material or create a workshop around? Do you want to show people how to avoid issues you've had in the past? Reach out to 0xAlex on Discord to get involved!

🗂 Resource Centre: Similar to workshops, but rather a series of blogs and videos living on the main blog. If you'd like to get involved, hit up Chloe, Commstark or Nico!

🐕 Off-Leash Area: The main spot to float new ideas for new projects and working groups that aren't developer or integration related.

⚙️ QA-Testing: A group dedicated to testing new releases of the wallet and reporting bugs. This group is especially important as we inch closer and closer to our v1 launch. Please jump in, download the newest version of the wallet, get your hands dirty and start some tickets! (if needed.)